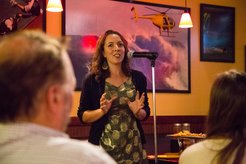 During your time of Peace Corps service, you met the first two goals by providing your skills and knowledge on behalf of the people you served. But did you know the third goal calls for action even once we return home? This goal asks us "to help promote a better understanding of other peoples on the part of Americans." It's a lifelong "secondary project" that all RPCVs should feel empowered to take part in.
The revitalized Speaker's Bureau program is asking for RPCVs who are interested in telling their story. This is no-cost and low-commitment. We will do the work of matching you to a school, university, or community group to speak to and you'll just need to come with a small slideshow of pictures and stories to share. We will provide the resources you need to make that happen!
If interested, please sign up for the program here. Email speakers@seapax.org if you have questions or comments!