Interested in reading a good book? Join us at the SEAPAX book club. Check out the next book, when and where we meet on this page: 
---
2020 SEAPAX Book Club List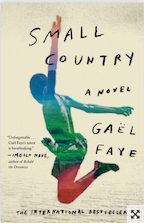 Sunday, February 9, 3-5 PM
Boon Boona Coffee
724 S. 3rd St., Renton
Small Country by Gael Faye
Burundi, 1992. For 10-year-old Gabriel, life in his comfortable expatriate neighborhood of Bujumbura with his French father, Rwandan mother and little sister Ana, is something close to paradise. These are carefree days of laughter and adventure - sneaking Supermatch cigarettes and gorging on stolen mangoes - as he and his mischievous gang of friends transform their tiny cul-de-sac into their kingdom.
But dark clouds are gathering over this small country, and soon their peaceful existence will shatter when Burundi, and neighboring Rwanda, are brutally hit by civil war and genocide.
A novel of extraordinary power and beauty, Small Country describes an end of innocence as seen through the eyes of a child caught in the maelstrom of history. Shot through with shadows and light, tragedy and humor, it is a stirring tribute not only to a dark chapter in Africa's past but also to the bright days that preceded it.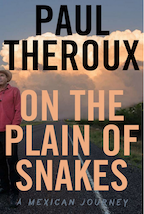 Sunday, April 12, 3-5 PM
On the Plain of Snakes by Paul Theroux
Paul Theroux has spent his life crisscrossing the globe in search of the histories and peoples that give life to the places they call home. Now, as immigration debates boil around the world, Theroux has set out to explore a country key to understanding our current discourse: Mexico.
Just south of the Arizona border, in the desert region of Sonora, he finds a place brimming with vitality, yet visibly marked by both the US Border Patrol looming to the north and mounting discord from within. With the same humanizing sensibility he employed in Deep South, Theroux stops to talk with residents, visits Zapotec mill workers in the highlands, and attends a Zapatista party meeting, communing with people of all stripes who remain south of the border even as their families brave the journey north.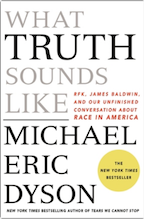 Sunday, June 14, 3-5 PM
Darien's house
What Truth Souths Like - Robert F. Kennedy, James Baldwin, and Unfinished
Conversations about Race in America by Michael Eric Dyson
In 2015 BLM activist Julius Jones confronted Presidential candidate Hillary Clinton with an urgent query: "What in your heart has changed that's going to change the direction of this country?" "I don't believe you just change hearts," she protested. "I believe you change laws."
The fraught conflict between conscience and politics – between morality and power – in addressing race hardly began with Clinton. An electrifying and traumatic encounter in the sixties crystallized these furious disputes. In 1963 Attorney General Robert Kennedy sought out James Baldwin to explain the rage that threatened to engulf black America. Baldwin brought along some friends, including playwright Lorraine Hansberry, psychologist Kenneth Clark, and a valiant activist, Jerome Smith. It was Smith's relentless, unfiltered fury that set Kennedy on his heels, reducing him to sullen silence. Kennedy walked away from the nearly three-hour meeting angry – that the black folk assembled didn't understand politics, and that they weren't as easy to talk to as Martin Luther King. But especially that they were more interested in witness than policy. But Kennedy's anger quickly gave way to empathy, especially for Smith. "I guess if I were in his shoes…I might feel differently about this country." Kennedy set about changing policy – the meeting having transformed his thinking in fundamental ways. There was more: every big argument about race that persists to this day got a hearing in that room. Smith declaring that he'd never fight for his country given its racist tendencies, and Kennedy being appalled at such lack of patriotism, tracks the disdain for black dissent in our own time. His belief that black folk were ungrateful for the Kennedys' efforts to make things better shows up in our day as the charge that black folk wallow in the politics of ingratitude and victimhood. The contributions of black queer folk to racial progress still cause a stir. BLM has been accused of harboring a covert queer agenda. The immigrant experience, like that of Kennedy – versus the racial experience of Baldwin – is a cudgel to excoriate black folk for lacking hustle and ingenuity. The questioning of whether folk who are interracially partnered can authentically communicate black interests persists. And we grapple still with the responsibility of black intellectuals and artists to bring about social change.
This book exists at the tense intersection of the conflict between politics and prophecy – of whether we embrace political resolution or moral redemption to fix our fractured racial landscape. The future of race and democracy hang in the balance.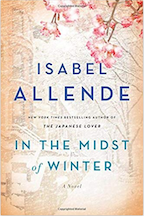 Sunday, August 9,  3-5 PM
In the Midst of Winter by Isabel Allende
In the Midst of Winter
begins with a minor traffic accident—which becomes the catalyst for an unexpected and moving love story between two people who thought they were deep into the winter of their lives. Richard Bowmaster—a 60-year-old human rights scholar—hits the car of Evelyn Ortega—a young, undocumented immigrant from Guatemala—in the middle of a snowstorm in Brooklyn. What at first seems just a small inconvenience takes an unforeseen and far more serious turn when Evelyn turns up at the professor's house seeking help. At a loss, the professor asks his tenant Lucia Maraz—a 62-year-old lecturer from Chile—for her advice. These three very different people are brought together in a mesmerizing story that moves from present-day Brooklyn to Guatemala in the recent past to 1970s Chile and Brazil, sparking the beginning of a long-overdue love story between Richard and Lucia.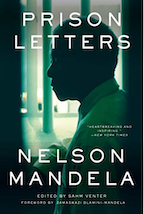 Sunday, October 11, 3-5 PM
The Station
The Prison Letters of Nelson Mandela by Nelson Mandela
Arrested in 1962 as South Africa's apartheid regime intensified its brutal campaign against political opponents, forty-four-year-old lawyer and African National Congress activist Nelson Mandela had no idea that he would spend the next twenty-seven years in jail.
During his 10,052 days of incarceration, the future leader of South Africa wrote a multitude of letters to unyielding prison authorities, fellow activists, government officials, and, most memorably, to his courageous wife, Winnie, and his five children.
Now, 255 of these letters, many of which have never been published, provide exceptional insight into how Mandela maintained his inner spirits while living in almost complete isolation, and how he engaged with an outside world that became increasingly outraged by his plight.