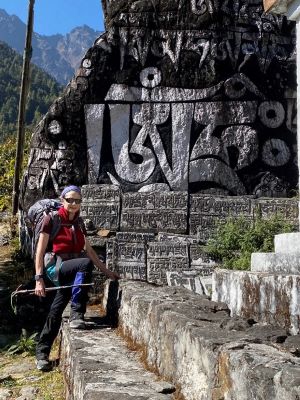 Between 1968 and 2020, nearly 4,000 Peace Corps Volunteers, including some of our own SEAPAX members, served in Nepal. I am not one of them, but for decades, I wanted to visit this country and go trekking in the Khumbu region. A trip planned for 2020 was "pandemic postponed," but when travel restrictions eased, and after a Moderna hat-trick, I finally made it, just before Omicron hit. Our volunteers are not assigned to high altitude villages, but in the verdant lower climes, where we passed kitchen gardens and enjoyed vegetables grown in family greenhouses, I couldn't help but think of the Peace Corps Nepal agriculture projects aimed at soil conservation, crop diversification, and food and nutrition security. The warm welcome we received at every lodge and tea house echoed volunteer stories of their host families. The beauty of the Gokyo Valley was surpassed only by the opportunity to walk side by side with our small Sherpa trekking team, learning about their families, their upbringing, and their hopes and dreams. Yes, every day on trek brought me back to the most meaningful aspects of my Peace Corps experience.
One year ago, I shared with you that I was part of an RPCV cohort working as contact tracers for Public Health – Seattle & King County under NPCA's Emergency Response Network. We have since welcomed additional team members and transitioned to assisting the public access COVID-19 vaccines, testing services, and other community resources. It's a rare work environment that provides the strong team connection we enjoy, and we all agree it is thanks to our common Peace Corps service and values.
Also last year, I invited everyone to submit suggestions for 2021 programs. We were delighted at the response to our campout, annual picnic, and the recently returned happy hour. While we never expected to again be facing the prospect of limiting in-person events, health and safety remain our top priorities, so we will continue to monitor developments and follow state, local, and CDC guidelines. Under the leadership of outgoing SEAPAX President Brad Cleveland, your Board has spent a great deal of time brainstorming ideas to allow all members to have a voice and the opportunity to create new SEAPAX programs. We have restructured our committees to make it easier to be involved—you do not need to be a Board member to initiate a project or make a meaningful contribution. There is something for everyone—including the more than 75 new members who joined in the past year.
Do you enjoy event planning or have great organizing skills? We have several immediate opportunities for you.

Do you have an idea for a live or virtual program or event (but don't have time or know where to start)? Let us know!

Would you like to join our local efforts to support refugees from Afghanistan? Our service committee has a place for you.

Do you have ideas to help SEAPAX achieve greater Diversity, Equity, and Inclusion? We have a committee for that, too.

Do you like national and local politics? Join our advocacy efforts to help ensure the long-term funding and Congressional support for Peace Corps.

Are you interested in flexing your writing muscles? Send us your blog draft or get in touch to write a member spotlight.

Do you have professional skills or connections to help a newcomer? Are you a newcomer seeking assistance? We have a great track record matching mentors and mentees.

Are you short of time but want to show your support for SEAPAX? Though we continue to follow the "dues-free" model, we have modest, but real expenses to maintain our email and web services. If you are able, please make a year-end donation.
If everyone receiving this email contributed just $3.00 a year, we would easily cover those basic expenses. Remember, SEAPAX is now a registered 501(c)(3), which means your donations may be fully tax deductible. Thank you to all who have already donated!
Wishing you and your family good health and great personal fulfillment for the holidays and the year ahead.
Kathleen Sebastian