2022 SEAPAX BOOK CLUB

Meeting time: 3PM - 5PM
Dates: February 13 (April 10, June 12, August 14, and October 9).
Questions or to join, contact: SEAPAXbooks1@gmail.com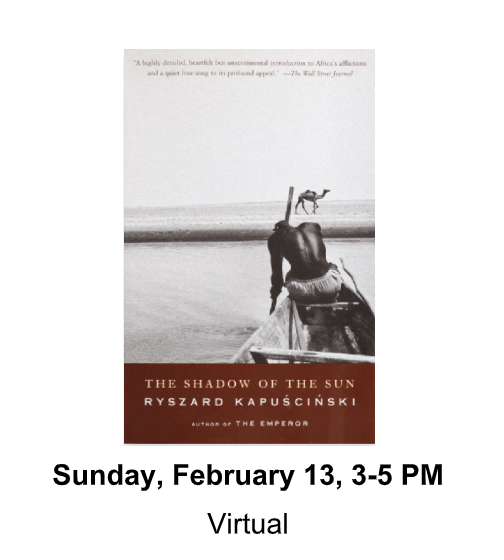 Sunday, February 13, 3-5 PM
Virtual - email SEAPAXbooks1@gmail.com to be added to the Book Club invitations.
The Shadow of the Sun
by Ryszard Kapuściński, Klara Glowczewska (Translator) (non-fiction)
In 1957, Ryszard Kapuscinski arrived in Africa to witness the beginning of the end of colonial rule as the first African correspondent of Poland's state newspaper. From the early days of independence in Ghana to the ongoing ethnic genocide in Rwanda, Kapuscinski has crisscrossed vast distances pursuing the swift, and often violent, events that followed liberation. Kapuscinski hitchhikes with caravans, wanders the Sahara with nomads, and lives in the poverty-stricken slums of Nigeria. He wrestles a king cobra to the death and suffers through a bout of malaria. What emerges is an extraordinary depiction of Africa--not as a group of nations or geographic locations--but as a vibrant and frequently joyous montage of peoples, cultures, and encounters. Kapuscinski's trenchant observations, wry analysis and overwhelming humanity paint a remarkable portrait of the continent and its people. His unorthodox approach and profound respect for the people he meets challenge conventional understandings of the modern problems faced by Africa today.