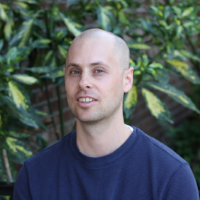 Name: Brad Cleveland
Country of Service: South Africa
Sector: Health
Years of Service: 2006-2008
Company: University of Washington
Title: Research Scientist
Email: cleverb262@gmail.com
1. Please share your personal biography.
Born in Spokane, WA, Brad Cleveland spent most of his childhood outdoors. He learned
how to ride a unicycle, took up water skiing, and participated in a number of different
sports. He later moved to Yakima, WA where he grew to appreciate new things. This
included the wonderful smell of apple orchards on late evenings of early fall before
harvest. Brad eventually moved from Yakima to Seattle to attend school at the
University of Washington. He has lived in Seattle ever since with the exception of his
time living abroad in South Africa as a Peace Corps Volunteer. In his free time, Brad
enjoys exploring the outdoors, hiking, traveling, being on/near water, staying up-to-date
on current events, science, and staying physically active.
2. Please share your professional biography.
Brad currently works as a Research Scientist at the University of Washington. The lab
that he is in primarily studies how to design and develop an effective HIV vaccine. Brad
has been involved in this type of biomedical research for about 15 years. As a Peace
Corps Volunteer in the Republic of South Africa (2006-2008), Brad worked at a rural,
district hospital in a clinic specializing in HIV/AIDS health care. During his Peace Corps
service, he investigated the contributing factors to why a large proportion of HIV+
patients were arriving at very late stages of AIDS at the clinic where he worked,
developed a system to help find HIV+ patients who failed to return for medical follow-
up visits, and conducted youth outreach work. Brad has a BS in Biochemistry from the
University of Washington.
3. What was one of your favorite memories/projects, etc. from your Peace Corps
Service?
A favorite memory of Brad's is a time when he was in the process of taking public
transportation back to his permanent site. While in South Africa, it was extremely rare
to see another white person, with the exception of other Peace Corps Volunteers, on a
public taxi. Most white South Africans would strongly warn you against taking this type
of transport out of unfounded fear. On one particular occasion, when Brad and several
of his fellow Peace Corps Volunteers entered a public taxi, a black South African
passenger proclaimed: "This is the new South Africa!" Considering the recent, dark
history of Apartheid, this was a powerful statement and one that still gives Brad
goosebumps today when he thinks about it.
4. How have you been engaged in the Seattle community?
Since 2010, Brad has been an active SEAPAX member here in Seattle. He has served on
the SEAPAX Board over the last two and a half years and is the current SEAPAX
President. Brad has also been a member of the Young Professional International
Network (YPIN) that is part of Seattle's Worlds Affairs Council. Brad regularly attends
local science-related seminars and talks and other events hosted at Town Hall Seattle.
He has been a season-ticket holder for the National Geographic Live speaker series for a
number of years now.
5. How have the skills you gained during your service benefited you in your career,
volunteerism or personal interests?
The majority of Brad's professional career has been devoted to developing an effective
HIV vaccine. His Peace Corps service in the Republic of South Africa, the epicenter of
the HIV epidemic, really brought home the need for new and effective HIV/AIDS
interventions and put a human face on the global health crisis that few experiences
could. This has given Brad a new and unique perspective on HIV/AIDS-related issues
that not all biomedical researchers have.