SEAPAX Monthly Newsletter
March Monthly Newsletter
---
New SEAPAX SWAG Merchandise coming soon!
SEAPAX is excited to announce that we will be launching our first-ever line of SEAPAX merchandise. Merchandise will be available for members and their families to order with either the official

SEAPAX

logo or the 2019 logo design winner. 75% of all the proceeds from these sales will benefit the

SEAPAX

grant committee to provide funding for local and international non-profits that align with the core values of

SEAPAX

. We appreciate all your input and patience as we launch this new chapter.
---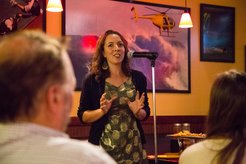 SEAPAX Speaker's Bureau
Help us reach the Third Goal by joining the Speaker's Bureau!
During your Peace Corps service, you met the first two goals by providing your skills and knowledge on behalf of the people you served. But did you know the third goal calls for action once we return home? This goal asks us "to help promote a better understanding of other peoples on the part of Americans." It is a lifelong "secondary project" that all RPCVs should feel empowered to take part in.

The revitalized Speaker's Bureau program is asking for RPCVs who are interested in telling their story. This is no-cost and low-commitment. We will do the work of matching you to a school, university, or community group to speak to and you just need to come with a small slideshow of pictures and stories to share. We will provide the resources you need to make that happen!

If interested, please sign up for the program here. Email if you have questions or comments!
---
Monthly Calendar 

3/6 1st Wed HH, Canterbury Ales, Seattle
3/12 2nd Tues Arts and Cider, Schillings Cider, Seattle
3/20 3rd Wed HH, Beer Star, Seattle
3/21 Eats Out, Capitol Hill
3/30 Mt. Baker Potluck, Cordata Co-op, Bellingham
3/31 Museum Focus Group, University Branch Library, Seattle

---

Happy Hour

1st Wednesday HH: Join us next month on Mar. 6th for the monthly Pub Quiz at Canterbury Ales in Cap Hill, 534 15th Ave E at 7 PM. Don't fear the quiz, show up for a good time.

Second Tuesday Arts & Cider: Mar. 12th from 6-9 PM at Schillings Cider House in Fremont. Schillings does not have food, but you can bring your own. 708 N 34th St This month, let's have some fun with watercolors, glitter glue and crayons.

3rd Wednesday HH: Mar. 20th at 5-7:30 PM we are heading Beer Star in White Center. Get a drink and relax. 9801 16th Ave SW, Seattle.

RSVP before noon the day of the event on Facebook or email so we can get enough seats. Always looking for new places for a crowd so email your suggestions.

---

Book Club

Next meeting is Apr. 7th, 3-5 PM. The Girl Who Smiled Beads: A Story of War and What Comes After by Clementine Wamariya and Elizabeth Weil @  Honey at Alma Mater 1322 Fawcett Ave, Tacoma.

---

SEAPAX Events

 

Join us at Eats Out on Thur. Mar. 21st at 6:45 PM in Capitol Hill. Because we rely on RSVPs to reserve the correct number of spots, you will need to RSVP to get the address of the restaurant. See you there!

Scavenger Hunt, Apr. 27th, Green Lake - stay tuned for more details.

Service Opportunity at the Peace Corps Send-Off on May 13th. We are looking for SEAPAX members who are interested in setting up a table from their country of service. If you are interested, please let us know. See event details below.

---

Peace Corps Send Off / Welcome Home

We will be hosting our annual Peace Corps Send-Off and Welcome Home event for invitees and RPCVs at the Columbia City Library, 4721 Rainier Ave S, Seattle, WA 98118, in the meeting room (bottom floor) on May 13th, from 6-7:30 PM. Please join us in celebrating with invitees, applicants, recently returned Peace Corps Volunteers, and not-so-recently returned Peace Corps Volunteers for a fun, informal evening with the Seattle Peace Corps community. This will be a light potluck event, so please bring an appetizer, dessert, non-alcoholic beverage, or light finger food to share.

---

SEAPAX Service

Do you belong to or know of a community or organization that we can help? Have you come across an amazing volunteer opportunity that you want to share? Please send any ideas for upcoming service opportunities to Josh Fliegel and Andrea Shelton at servicechair@seapax.org.

Be on the lookout for other SEAPAX service events happening this year!

---

SEAPAX Calendar and Note Card Sale

Take advantage of deeper discounts on 2019 calendars, now $6 ($2 less than Feb)! Also on offer are perpetual calendars (great for keeping track of birthdays and other special annual events), and note cards.

All items will be available at upcoming events and board meetings. You can also order through the website or email. $8 for international calendars, $8 for note card sets, and $10 for perpetual calendars.

---


NEW MEMBERS 




Sarah Carter, Ghana 2014-2016

Joshua Morris, Cameroon 2011-2013

Meghan Carley, China 2013-2015

Matthew Martin, Nicaragua 2014-2017

---

 

Calendar Look Ahead

4/7 Book Club, Honey at Alma Mater, Tacoma
4/27 Scavenger Hunt, Green Lake, Seattle
5/13 Peace Corps Send Off/Welcome Home, Columbia City Library, Seattle
6/28-30 Annual Camp Out, Lopez Island

---

Top Up Contributions

We have new Top Up guidelines. Please visit the website and let's keep on the giving path. Small Grants are available for local or international projects. 

---

Apply for Grants

Ask non-profits in your network if they need a small grant and encourage them to apply! Check out the details and applications on the SEAPAX website under the Grants tab.

---

SEAPAX Grants Update

Our Holiday Party FLASH GIVE was a new event. We raised $123 donation for Friendly Water for the World. The organization is based in south Seattle and provides training on building clean water pumps in Africa, Asia, and South America.

The February Grant went to current PCV Andrew M. in the Philippines. He is finishing a community solid waste project to improve health and environmental conditions during the last 7 months of his service. Our $103 donation will be put to good use.

---

Mt. Baker RPCV Potluck

Mt. Baker RPCV potluck will be Mar. 30th 5:30-8:30 PM in the Roots Room at the Cordata Co-op Store, 315 Westerly Road, Bellingham.

The program speaker is Frank Porcella, who will describe a cattle shipment he

made from Somalia to the United Arab Emirates, with a brief history of his time in Peace Corps Afghanistan.

Please RSVP by Mar. 27th. Remember your reusable plates, utensils, etc. and bring a casserole, salad, bread or dessert and something you like to drink.  

Directions:

The Roots Room is located upstairs at the top of the stairway, on the right hand side of the store. The stairway to the Roots Room is adjacent to the deli seating area. See important parking info below.

Parking Info: Please carpool, use alternative transportation, or park across the street behind the Dairy Queen, unless you need the handicap parking in front of the building. Wheelchair access to the Roots Room is available via the elevator in hallway below staircase to the room.

---

Museum Focus Group

What: Focus Group for the Museum of the Peace Corps Experience

When: Mar. 31st, 2-4 PM

About: The committee of the Museum of the Peace Corps Experience is beginning to plan digital and physical exhibits in anticipation of the Peace Corps's 60th anniversary and would like your input! Come share your ideas on how you think the PC experience should be communicated to a wider audience and learn how you can get involved with the project.

---

Peace Corps Connect

Register now for June 20-22, 2019 at Peace Corps Connect 2019: Innovation for Good. Returned Peace Corps Volunteers, current and former staff, applicants, invitees, and friends of the Peace Corps from across the country will gather in Austin, TX to connect at the intersection of creativity and impact.
Copyright © 2018 Seattle Area Peace Corps Association (

SEAPAX

), All rights reserved.
This email was sent by:
Seattle Area Peace Corps Association (SEAPAX)
PO Box 77712 -
Seattle, WA, 98177
You have received this email because you are a member or existing contact of Seattle Area Peace Corps Association (SEAPAX), a membership organization powered by SilkStart. update notification preferences unsubscribe from this list